Join the Fun and Excitement!

Welcome to Step Up 2 Dance competition and convention.
We are a fun, exciting & inspiring event for students of all ages and abilities. I am proud to offer all attendees a professional, safe, and affordable show with child-friendly hours. The audience is limited and the number of performers we accept is capped and controlled for spacing, uncrowded, and a safe environment for all. Our Live and Virtual events are interactive and truly offer an outstanding educational experience. Dancers are nurtured, recognized, and rewarded during their participation with us. As the owner and director, I work tirelessly to encourage students to develop a lifelong passion for dance, to be appreciative of their teachers, to stay in dance class, and stay loyal to the dance school. I invite you to visit the Step Up 2 Dance Studio Testimonials to read some of the 100's of teacher letters who will attest to their experience of Fun, Quality events with Outstanding Customer Assistance many times over.
Thank you to all the wonderful and talented crew who have supported us over the years. We look forward to seeing you at the show.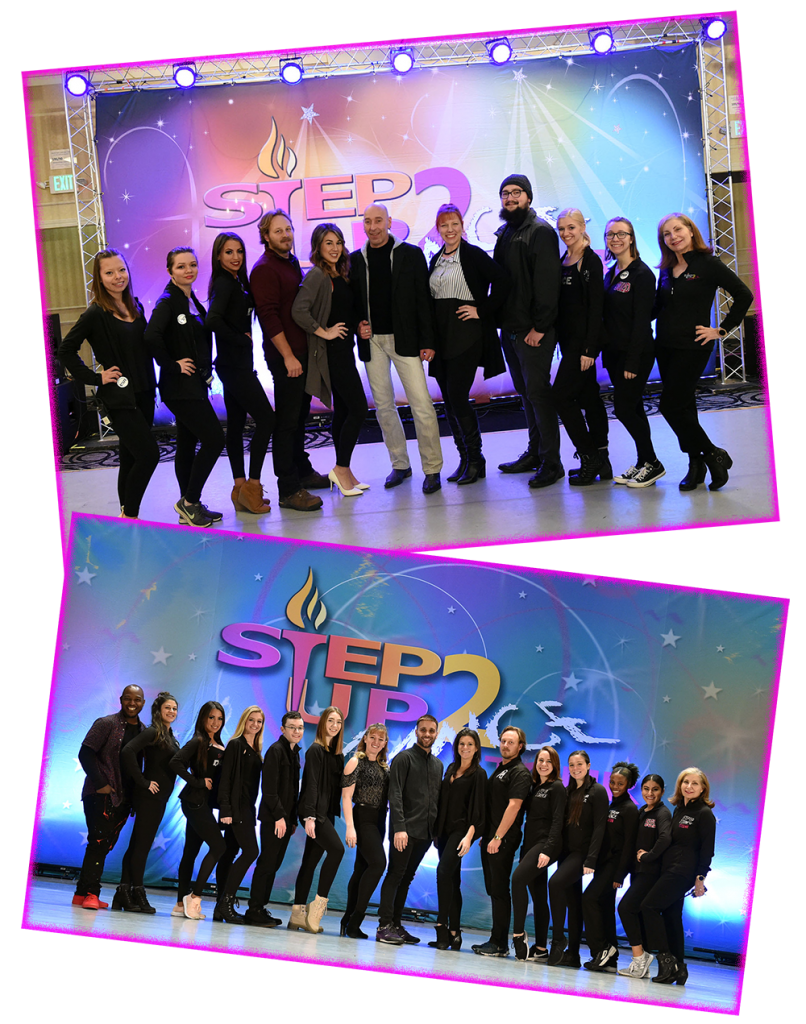 TESTIMONIALS
"Hi Carol! Wonderful seeing you yesterday, I wanted to pass along a big THANK YOU to you & your Staff for a wonderful day! The girls had a fantastic time and I cannot stress enough how beautifully run the classes were. So many conventions we attend the dancers come away with 6-7 routines and no new knowledge. It was amazing to see actual education going on (ie. progressions across the floor, corrections, tips to improve, etc.) Bravo! That is non-existent in this industry and something I constantly advocate for. Thank YOU for bringing something different and important!
It was a lovely atmosphere, everyone felt comfortable & successful, just wonderful!"
Warmest thanks from the Toriography Dance Company!
"So much fun yesterday! Ty. Your Master Teachers are Amazing. I stayed to watch. Their words to the dancers are Truly Inspiring! Such strong words of Encouragement for everything they did. Great job carol and staff!!"
Loralee's Studio of Dance
"We just want to say thank you again for an unforgettable Phoenix Nationals. This was our first time attending a StepUp2Dance Nationals. We attended the convention in Mesa without our studio. We competed with our studio Evolve Dance + Fitness in January. My daughter had a great time and the environment was relaxing and enjoyable. We hope to go to conventions and competitions with you all again soon. Take care!"
Laarni + Neeya Nuez
"It wasn't just about dance. Life lessons were learned on Sunday. For example…. Ashley M. told the dancers, "I'm not going to tell you what this song is about. YOU tell YOUR story." "Dance outside your snow globe/outside of the box." Miles K. Miles brings an explosive amount of energy that lightens up the room as soon as he walks in! Can you say Fabulousness?! Zachary K….."If you can say it, you can do it!" He and his assistant (one of Kelly's Killers) were amazing to say the least. I need to get her name and tag her! Jayar Fernandez….."Next time you are at a competion, workshop, class, etc., introduce yourself and talk to someone new!" (He had all the dancers find someone they didn't know and tell them what their favorite movie was) Ricky W.Oh boy. Ricky is also full of pep and his love of dance is quite evident. I love the way he is so friendly and encouraging to these young dancers. A true asset to StepUp Dance! Thank you Carol for all you do to make it happen!!! P.S. Missing you Addison J.! Best of luck to you!!!"
Andie Fiorino-Hunt
"We loved being a part of such a great event. Looking forward to next year!!"
Kate's Dance Company
"Wish we could do again this week, what a great time as always. Thank you Carol StepUp Dance"
Debbie Russell-Rosario
"This was one of the best competitions! you all work so hard and Carol you run a mean show congrats to all your hard work and success. Can't wait to see you guys again"
Denise Viglione-Rivera
"What a wonderful competition and master classes are absolutely amazing. Every one of us have had great time during last few days. Thank you much for letting it happen."
Shally Zhang
President
Ying Dance Center
"I want to thank you, Phil and your amazing staff for our fifth year with Step Up! We could not be more pleased with your love, respect and appreciation not just for the art of dance, but for the dancers themselves. Thank you for creating lifelong memories we will cherish forever. I love you guys…Here's to another five!!!"
Mariclare Pollicelli
Innovation Dance Team
"Thank you Carol StepUp Dance, as always it was a wonderfully organized and professional show. We are happy to come to Step Up 2 Dance every year, and many more to come!"
Michelle Spellman-Michitson
Owner/Director Center for Performing Arts
"The day was extremely organized. Although it was crowded we were comfortable, the staff was helpful and always polite, and most importantly the children were safe. This was our first competition experience and my parents were thrilled with the outcome. My dancers are hungry for more and can't wait to prepare for next year. We will definitely return, and this time with multiple numbers. Thank you for a wonderful day of dance and inspiration."
Althea Holmes
On Your Toes
"Thank you Carol for a wonderful day! Even though our dance team was small this year. We had such a great time. Your staff was so accommodating and made us feel welcomed. We look forward to building our team and seeing you next year. Thank you for a wonderful experience! "
Christine King
Expressions In Dance
Peabody
"We plan on coming back next year! Thank you for all of your help and assistance for helping me and my dancers have an amazing 1st competition. They will never forget it! "
Kenyani Shanai' Henderson
Soul Xpressiion School of the Arts
"Dear Carol–
I can't thank you and your staff enough for all that you did to make Sunday such an incredible day for SonDance! As ALWAYS, your competition was professionally run with immaculate attention to detail. Your staff is so kind, helpful and positive. Even though we only brought two numbers, we were made to feel just as important as any other studio that brought dozens of numbers. You run such a first class organization. We felt so blessed to be part of the day! Thanks so much for everything! "
Danielle Ebbrecht
SonDance
"Thank you Mr David for being kind enough to take this photo w/ the girls . They were thrilled ! They had a great weekend . All the judges and crew were so friendly throughout the weekend and helped make the experience great for my students ! Thanks Carol StepUp Dance"
Miss Tammy
"Hello Carol! We wanted to thank you for a great competition. Our dancers really enjoyed it! Thanks Again-"
Carlene Nazarian
"To the Step Up 2 Dance RI staff this past weekend. Blake, Bree, Randy, Caitlyn, Rayna, Meg, Kimberly and Ricky. I would like to express my gratitude and appreciation for taking very good care of all the Dancers. You were all thoughtful, respectful, extremely well organized and what meant the most to me, was your kindness. You are a great team!"
Jan R.
"Hi Carol,
Congratulations on another successfully run competition! My mother's studio absolutely loved the competition and had a blast! Thank you for all that you and your staff continues to provide for our dance community!
Wishing all the best for the rest of your regionals, excited to see you again at nationals!!!"
Shayna
"Carol,
Thanks again for an amazing, fun, competition. We will see you at the NH Nationals"
Denise
"Carol & Phil,
Please extended a thank you to judges, staff and crew for their time & talent this weekend. Southbury event was wonderful. My students and families enjoyed another year with SU2D.
Hope you and Phil great some time to take a breath and enjoy. Wishing you continue calm and success with the rest of the season. Thank you again."
Susan
"Your show was the best we did last year. The most organized! "
Gail Houle
"Carol – I want to thank you and your staff for an enjoyable Saturday afternoon. My dancers were below the ability of the other studio dancers that attended the convention, but they all had a great time. They talked about it on the way home, in Monday's classes and they were still talking about the classes and the teachers this afternoon. Your teachers made them all feel so welcome. The smaller class sizes compared to a lot of conventions in the big ballrooms was wonderful for my dancers. Kaitlyn stayed right with my dancers and helped them all afternoon. Please tell her I said thank you. We will definitely come back for the convention again next year if you come to Wesley Chapel."
Peggy Kile
Peggy's Dance Place
"I recommend this competition for any dance studio owner or teacher who is looking, thr staff are amazing and the director Carol is outstanding and extremely kind! Their judges are very fair and always very encouraging! And their master class teachers are extremely trained and hard working professionals! S.T.A.R. Dance studio fully supports Step up 2 Dance and will be competing at their regionals and nationals for years to come :)"
Blake Balathunis,
Dance Teacher/choregrapher
S.T.A.R
"Amazing convention. Jordyn had a blast. Every single teacher was inspirational. Loved the way they taught. Not just about the dance moves. Thank you so much for putting on this event. We will do it again when it comes back to Phoenix."
Richelle M Chhay
"Thank you and all of your team for that passion! We just love you guys! "
Ashley Penny Booth, AZ
"Good afternoon. Thank you for a wonderful competition yesterday. We look forward to coming to SU2D every year."
Marilia Garner
"Great Convention!! Always start my season with Carol, at Step Up 2 Dance"
Rashell
NuEvolution!
"Had an Awesome Time"
Leslie
Dance DynamiX
"Loved the workshop"
Sheila Rosanios
School of Dance & Gym
"Was blessed with not only a performance by Ashtin Roth from Candy Apples but we were able to meet her as well!!! What an awesome way to start the workshop. The teacher here are a blast! "
Trina Delaura
"You inspired my student so much last season that the rest of her competition season continued to be a huge success because of the words you said to her that day. I just wanted you to know the impact you had on her. Thank you again."
Victoria
New Level Dance
"Hi Carol!
I just wanted to email and say what a wonderful time we had at Step Up 2 Dance yesterday! I can't say enough about you and your staff and just how nice everyone was. The venue was amazing and perfect for a dance competition! Thank you for all your hard work to make such a great day possible for all! All the little 'extras' were very much appreciated as well…the deli was a great convenience, the gift bags for the directors and the hip hop class with nick….so fun!"
Deanna Carpinteri
"Thank you for another amazing event in Westbrook this weekend!! We all had such a great time. You put on such a positive, inspiring event!! We are so grateful to be a part of it!"
Director Danielle
Son Dance
"We have just returned home from the most amazing week at Nationals I could have ever asked for! My dancers and dance families are so incredibly happy- and that is because you provided a wonderful experience for everyone. Your staff is not only professional, but they are fun loving, kind hearted, passionate and talented.
From the venue, to running on time, to the Amazing master classes, to the fun awards ceremonies, to the hilariously joyous dance party, to the skilled judging, to the dedication and passion of the owners- you exemplify how a Competition should be run. Somehow you managed to make each dancer that walked through your door feel special and unique.
Words cannot express my gratitude to Step Up 2 Dance.
Thank you all."
Innovation Academy
"Hi Carol!
I wanted to thank you for all that you do!!! This has been a positive experience from the time I made the first phone call to yesterday's event! The parents and dancers had a blast! The atmosphere was wonderful for the families and their children!!! Thank you for making dance competitions a positive learning environment for my dancers. We will be back next year, and we hope to see you!!! Good Luck with the rest of your season!"
Jodie
Dance Attitude